Everyday Makeup Look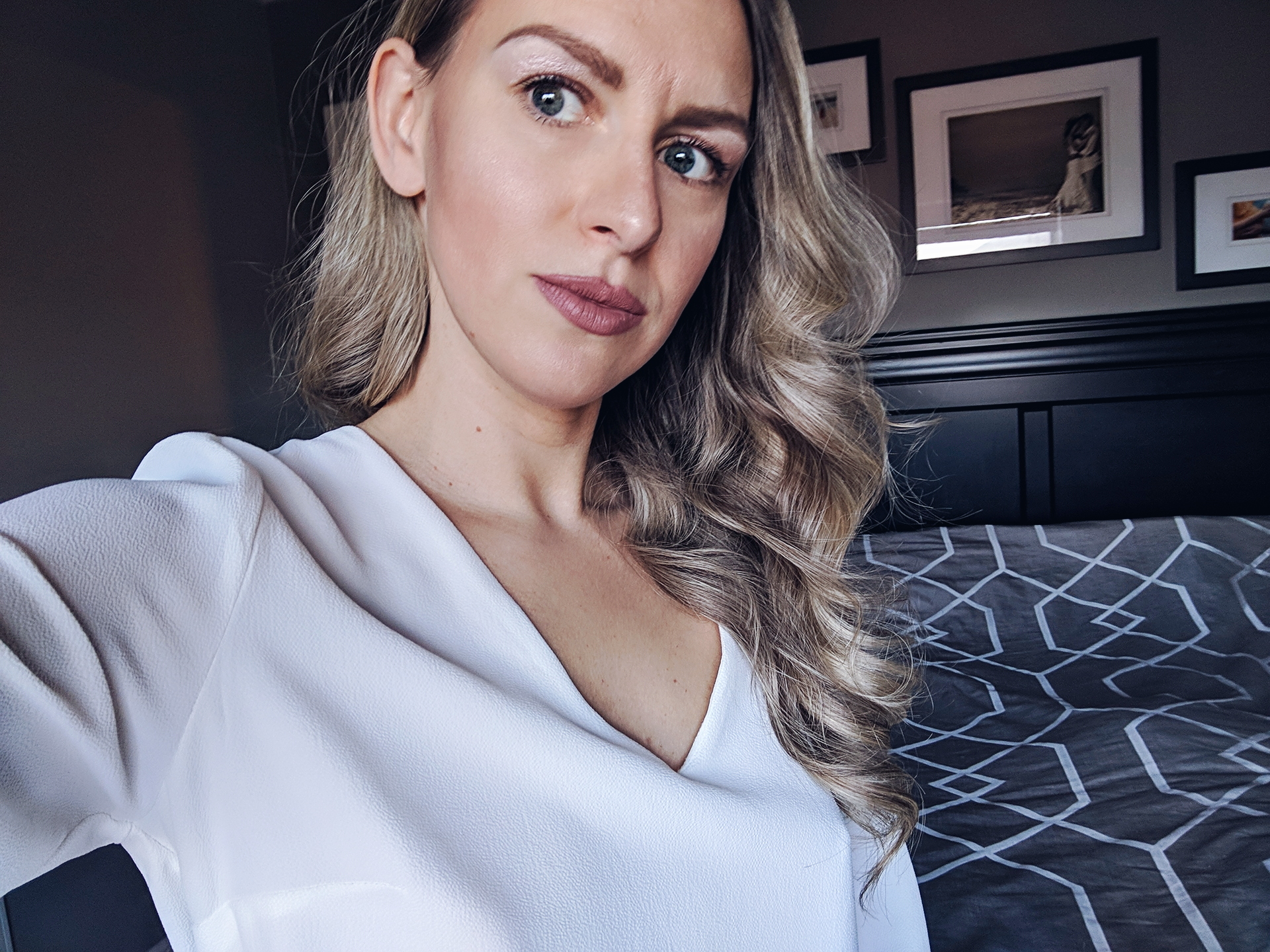 After getting some compliments and questions about my brows after posting a Instagram story a few weeks back, I thought it would be fun to share my VERY minimalist everyday makeup routine. Yes, my brows are makeup not microblading and no they don't always look the same everyday. Why don't they look the same everyday? Well, I'm no makeup artist, nor am I someone who is an expert at this whole makeup thing but the look is simple to create and I like it. I think at the end of the day that's all that mattes, that we feel good in the look we are sporting.
This makeup look is for the everyday bitch. It's easy peasy and the look is created with mostly super cheap non fancy drugstore brands with a few higher end brands thrown in.
1 - For my lashes I use Maybelline Lash Sensational Full Fan Effect. A little beauty trick to try on your lashes is "baby powder". I quote baby powder because as we know baby powder is super bad for you, so please don't use baby powder on your eyelashes. I use Soapstones Skincare's Sweet Cheeks Powder. I apply the powder with a q-tip to my lashes first and the mascara second. Why do I use powder on my lashes? I find the mascara sticks to the lashes better and makes them look fuller and longer. The powder can also be used to correct over mascaraed lashes, you know when they become like three weird eyelashes versus multiple because they are all stuck together? Put some of the powder on them and they'll unstick easier with a mascara brush. It'll save you from having to completely start your look over again.
2 - For my brows I use a powder brow kit, I prefer powders over pencil. Though I've never tried any of the brow gels. I'd be willing to try one for a review if anyone has a must use brow gel recommendation. I use a super cheap brand, Hard Candy but I love it. You can find it at Walmart. I use a brow brush to tame down the hairs, then I use the wax from the brow kit and apply the darker of the powder shades. However the lighter colour of the powders is pretty dark as well surprisingly. Honestly you don't need a lot of the wax either, too much wax and funny enough the powder doesn't stick as well. Then you get weird splotchy brows. I personally don't use the brow highlighter from this kit.
3 - Is a combination of highlighter from the NYX Wonder Stick, which I use right along the under brow line and blend in with a brush. I then use Maybelline's Master Strobing Stick in Light/Iridescent just above the eye crease and under the highlighted brow line.
4 - For contouring I use the NYX Wonder Stick with a mix of Maybelline's Master Contour Kit, however you would be fine to just use the contour stick. I prefer the creaminess of the contour stick, it blends way better then the powder Maybelline Kit. I really only use the highlighter from the Maybelline Kit. I only have the kit because I had previously bought it before the stick. So once the highlighter is gone from the kit I'll just purchase a separate highlighter to use from here on out. I prefer that shimmery highlight over the more dull NYX highlight. If anyone has any shimmery highlighter recommendations hit me up!
5 - After contouring I then add a blush to the cheeks/cheek bones. I use Mac's Plum Foolery.
6 - For my everyday lip look I like to use a more neutral lip shade, the shade changes depending on the season. In the winter months it's a darker shade of nudes or browns and in the summer I use a lighter or paler nude. I find when you have a tan the lighter colours look great! In this picture I'm using Tarte's Lip Paint in Birthday Suit. The picture on the website looks way more pink then it is, on my skin it's more of a brownish auburn colour.
I also use a Covergirl concealer under my eyes to cover the bit of darkness I have. What I'm really in need of is a product that reduces under eye puffiness. I swear I've tried everything, the expensive under eye creams to the cheapy ones. Nothing works to reduce my puffiness! If you have suggestions please let me know! I also use a Mac powder bronzer to fill in any pale looking areas of the face and on my neck.
I'd love to hear what you everyday look consists of and what products you use! Any recommendations you'd suggest to up my everyday bitch look?