CHRISTMAS STOCKING STUFFERS FOR $50!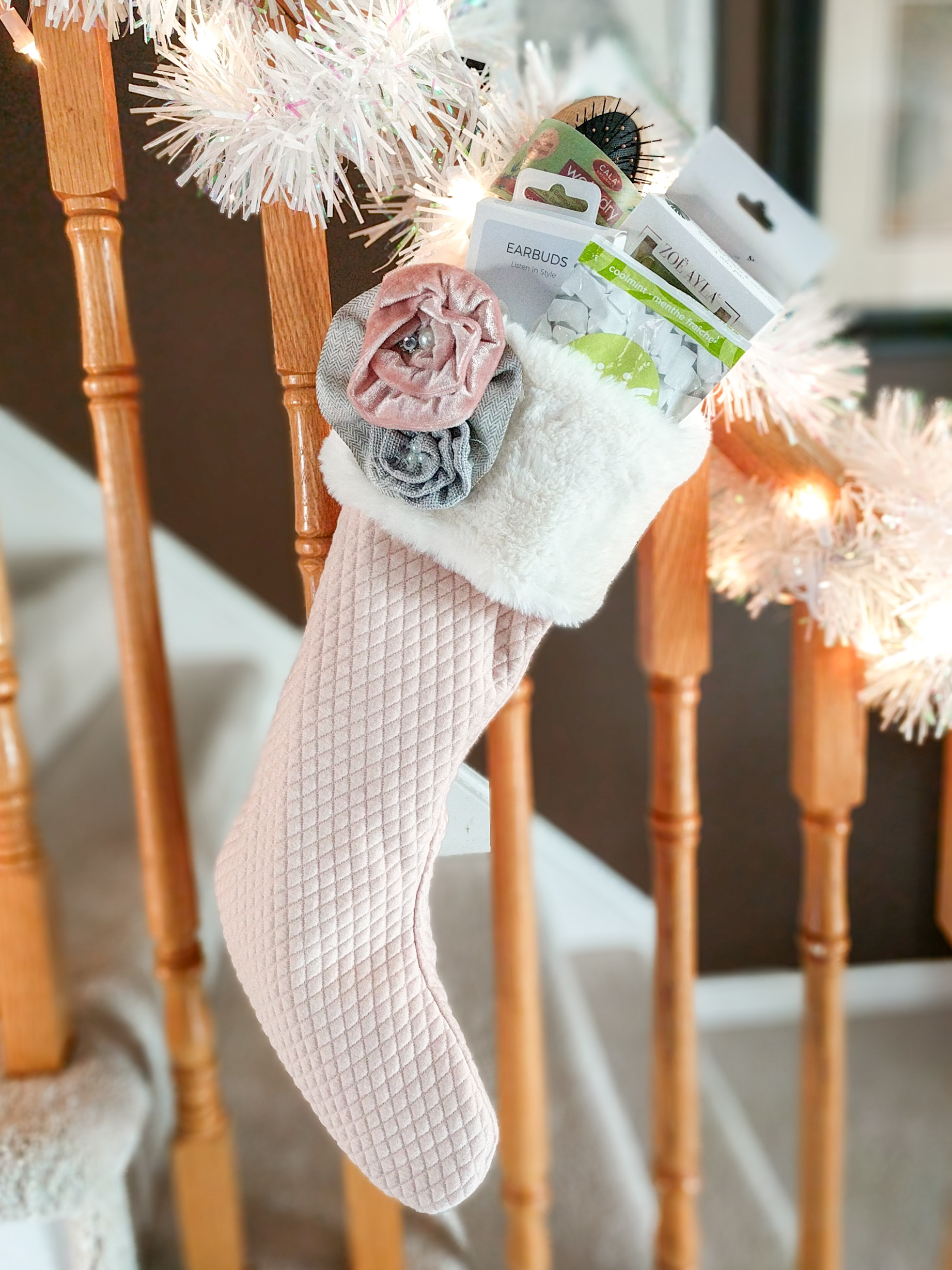 You know from my last post that one of the things I actually do like about Christmas is putting together a Christmas stocking. Probably because it's the easiest thing out of all the Christmas tasks, fill up someone's Christmas stocking with all of their favourite things and throw in some little surprises. I always tend to go WAY overboard with my stockings and spend ridiculous amounts of money on just the stockings. Though I've never actually tallied up what I've spent on one person's stocking so I can't verify how much or the most I've ever spent, but definitely in the $100 range and over.
I decided to challenge myself and stock a stuffing by going to only one store and keeping within a $50 budget. The going to one store part was easy, keeping in the budget was a little harder. I picked good ol' Marshalls, my absolute fave store to browse around, as my one stop shop. While there looking for stuffers, I even ended up scoring all the babe's gifts from there! Win, win for this momma bear! If you're like me and hate holiday shopping and didn't get your online orders in soon enough, get your ass to a Marshalls. They have clothing for any and every family member you can think of, they have gift baskets, houseware, beauty supplies, workout gear (like yoga mats and blocks, weights), tons of children's books and activity books, toys and crafts. Hell, they even have beautiful gift boxes to put your gifts IN and you can avoid all the wrapping hassle! I swear this post is not sponsored, I just love Marshalls a lot. More so now that I've visited during the Christmas season.
As for my $50 budget, I did say I went over on that but only by $11! High fives am I right? This stocking would be perfect for whatever special lady you have in your life, maybe your wife, your sister, your mom, daughter, niece. Whomever, this is the perfect lady Christmas stocking. Would you guys like to see a post on a stocking for the special man in your life? Let me know in the comments!
Here's what you'll find in my Christmas stocking!
Reuseable Sandwich and Snack Bags – This is the stocking gift that will keep on giving for the receiver and the planet! How cute is the littler pattern on them too?
Earbuds with Rose Gold accents – Everyone needs spare earbuds for when you either lose your existing pair of ear buds, *cough my step daughter, cough* or you've used them so much they stop working or the wire starts fraying! Earbuds in a stocking are always a great gift, and yeah these will probably clunk out quicker then a name brand pair, but for $5.99 you can't complain! Plus rose gold, hello!
Bixby Bites – Dark Chocolate Crunchy Peanut Butter Sea Salt – This is the only sweet treat you'll find in my stocking. In the past few years I've decreased my sugar intake and therefore everyone around me suffers the same fate. I usually try to get one thing I know is a fave treat when filling their Christmas stocking. I'm a lover of dark chocolate and even more of a lover when chocolate and peanut butter are combined! Who else is with me on this delicious combo?
Bamboo Detangler Hairbursh – All women want is for brushing your hair to not be like Medieval torture, and to not have all the ends of your hair ripped off by your brush. This brush is also eco-friendly, actually Marshalls beauty section is stocked with tons of eco-friendly products.
Pur Gum – No Aspartame in this gum, enough said!
Jade Crystal Roller – I've seen these everywhere and I know it was included in Fab, Fit Fun's Winter box. This tool promotes blood circulation which helps reduce wrinkles, under eye bags, sagging and a plethora of other ailments.
Calvin Klein Sports Bralette - How adorable is this sporty bralette? Perfect for lounging around the house when you still want bra coverage but aren't interested in underwire. Also perfect for wearing in the summer under a tank, since it's got such thin straps compared to a usual sports bra.
There ya have it, a real kick ass Christmas stocking for $60! Any of these items now going to be added to your stocking wish list?